ELC Weekly Parent Communication Examples
Each Friday, our educators send a message through ParentSquare, our communication app, to the families in their classrooms.
As you will see in the examples below, each post is full of rich and informative descriptions about what the children have learned and explored that week, along with photos to share what your child has been up to at the ELC.
These posts are a wonderful reflection of our program in action and we encourage you to explore!
---
Larks Newsletter 2/1/21-2/5/21

Dear Larks Parents,

This week we focused on flexible thinking and our Guiding Question was " How are our needs different from our wants? Discussing needs and wants helps children develop early economic reasoning skills and financial skills.

We read " Bunny Money", a story that touches on the topic of needs and wants, as siblings Ruby and Max experience a series of unexpected events while trying to buy their grandmother a birthday present, leading them to make a number of financial choices. Great flexible thinking, Ruby and Max!



Store My Love was relocated to the kitchen, and, with a lark announcing, "Shop's Open!" ushered in many shoppers.

---
We re-read Baby Goes To Market and again enjoyed watching Baby sample foods given to him by friendly grocers while his mother is busy shopping. A number of larks wondered why Mama was wearing a basket on her head. After some thought, they agreed that wearing it on her head allowed both her hands to be able to pick up the food and scrub brushes and pay for them.

---


We also read Fatuma's New Cloth which tells of a day Fatuma and her mother shop for just the right kanga cloth to make a dress for Fatuma. Kanga is a colorful fabric mainly used in East Africa - it can be worn as a head covering, skirt, or apron, and utilized in ways such as pot holders and towels. While walking to the cloth seller, Fatuma passes by grocers who sell chai, milk, and pots who say their wares will make her mother's chai tea taste even better. But nothing can make her mother's tea tastier because it already is perfect. Each lark made their own kanga, which we will put together to make one of roughly actual size. Larks experienced the texture and aroma of chai. Some larks thought the smell was too strong ("Eww! I smell ginger.") while a few thought it smelled good ("Mmm!"). Some larks tried to guess the ingredients after smelling it. ("Is there pepper in there?") We made playdough with chai ingredients added in. Larks crushed peppercorns and cloves with small stones and added cinnamon, ginger, and loose chai tea.
"It looks like...like those things we have." When we poured vegetable oil and water into a cup and added a baking soda mixture to get bubbles (filled with - you guessed it! - carbon dioxide) that floated to the surface and down again, they did look a lot like our bubbly liquid timers. Because oil and water don't mix and baking soda can produce bubbles, the larks created something similar.


---
Then larks have been constructing a 3D model of a neighborhood. So far they've added houses, streets, cars, and trees. One lark noticed the cars bunched too close together in one area ("What a mess!"). His idea is to make a parking garage that can neatly contain the vehicles. Construction will soon be underway.

---

We learned that snakes can swim because of the S-shape movement of their bodies, using their nostrils to breathe. We have discovered many interesting facts about snakes. The larks have been fascinated by snakes' eating habits and abilities. After reading and seeing a picture of a baby snake leaving its egg, questions arose. ("Is the egg hard? Why does it need a tooth to leave the egg? Where is his mommy and daddy?"). After further reading and research, we found that not all eggs are hard. Some baby snakes cut through their soft, leathery eggs and already know how to hunt for food to eat and hide to protect themselves from danger. ("They're not like us." "We still need our parents.")
---
Everyone practiced their handwriting, and the letters U, O, L, P, B, and A got special treatment from the larks because they were written with a damp sponge square, chalk and crayons. The larks have been steadily increasing their handwriting and letter recognition skills.
"U" for umbrella, "C" for Connor and cars, "O" for Olivia and otter, "L" for Lena, Lucas, and Leo, "P" for penguin, "B" for Benjamin, and "A" for Anvi and Aidan.

---

Like the farmers in Baby Goes to Market and Fatuma's New Cloth and all the people who grow food, the larks have started to grow a pinto bean from seed to sprout. Ask your child what they did to prepare the seed for growing. (they counted 4 cotton balls, pulled them apart & put them into a bag, counted 7 pinto beans and placed those in the bag, and then sprayed the inside of the bag with water. They're taped to our windows to get maximum sunlight and warmth. We hope to see seedlings next week!



---
Week 20: Hummingbirds Newsletter 1/25-1/29 2021
"After every storm there is a rainbow" ~Shannon L. Alder
Hummingbirds Weekly Newsletter
January 25-January 28, 2021
How is our neighborhood Special?
During the week, Hummingbirds were able to visit with Ms. Roumeliotis, Laurel Elementary's librarian who read us What Do People Do All Day by Richard Scarry, and one by one they were handed a book about community helpers to check out. She talked about book etiquette and how they need to hug their books while carrying it places and handling it with care. Each child experienced checking out a library book, just like the big kids, by waiting their turns for Ms. Roumeliotis to scan their barcodes. Afterwards, we brought our new library books back into our classroom, took some time to read and share each other's books and then placed them in a special area in our bookshelf. The wonderful learning experience was great for the children to see how our neighborhood library is special.
| | |
| --- | --- |
| | |
| | |
| --- | --- |
| | |

During a circle time activity, Teacher Stacy showed different pictures of places around the world and the children talked about what they found beautiful in the pictures. Some were easy to describe its beauty, and some were unexpected.One of the pictures shows a dark storm over the water, but a rainbow appears next to it (the title picture of this post) which the kids all voted was their favorite picture. We also went down memory lane and discussed about the campus scavenger hunt we did a few weeks back and it was amazing to hear that many kids remembered which places we visited.

The children continued to work on and finished their 3D neighborhoods and we placed them on the ground for the kids to use during free play. They used different materials and toys to make the neighborhoods come alive! They worked hard on these neighborhoods and are proud of their creation.

| | | |
| --- | --- | --- |
| | | |
Arendelle's Castle Goodies

As a class, we voted tp transform our dramatic play area into a bakery/ice cream shop, and during activities time the kids helped organize all the items and food containers. They voted for the shop name "Arendelle's Castle Goodies," which they created a sign by coloring and writing the name onto it. Also, each child signed their names onto the sign to represent the store belonged to all of them. The imaginary play that happened after the reorganization was phenomenal! The creative language the children were using while buying their items and making different bakery foods and ice creams was so much fun.

Teacher Tati's circle included Spanish vocabulary for things related to bakery. One of the pictures included a birthday cake that Ian shouted, "They must be turning six!" and Chloe replied, "Because there are six candles!" Afterwards, Teacher Tati showed the kids different yoga poses in Spanish.


This was definitely a major sensory week! The kids played with a moon sand mixture, which is flour and oil mixed together to make pretend ice cream. They created different kinds of scoops of flavors and scattered yarn "sprinkles" over the top to create yummy cones.


The kids had tons of fun creating oobleck, which is a substance made from cornstarch and water. Oobleck, a non-Newtonian fluid is not quite a solid or liquid and acts differently when there are changes in pressure that changes its properties from solid to liquid. They tried rolling it into a ball and watching the contents "melt" into a gooey substance in their hands. Addie pretended to use the oobleck as pancake batter and created mini pancakes in the pan.

"Listen to the rhythm of the falling rain"

Outside was extra special this week with the rainy weather. The kids had a blast playing outside during the rain testing their balance strength and agility, while enhancing their sensory experiences. There was a point where it started to pour and we all retreated under the awning. We sang songs and practiced breathing to lessen the rain strength. Surprisingly, the rain started to lighten up after our breathing activity!

-Hummingbirds class schedule change: Starting this upcoming Monday, February 1st, we will be changing our morning schedule. If you drop your child off later than 8:45 am, then you can find us at either River or Meadow Playgrounds. (If you come before then no need to worry about the switch.) We will bring the Brightwheel code with us to the playground so you can check your child in and bring their things with them. The kids have been more wiggly in the morning and we believe the earlier playtime outside will help their bodies during a later activities and circle time.
This will be our new schedule:

7:45-8:45: Free Play/Activities Inside
8:45-9:35: Playground/Outdoor Play
9:45-10:05: Snack Time
10:05-11:25: Free Play/Activities
11:25-11:50: Circle Time
11:50-12:00: Set up Lunch/Beds
12;00-12:30: Lunch
12:30-2:15: Nap Time/Quiet Activities
2:15-3:45: Snack Time/Lanai Activities
Have a BEAUTIFUL weekend Hummingbirds families!
Best Regards,
Teachers Stacy and Tati
---
Doves Weekly Newsletter 2/1/21-2/5/21
Hello families and happy Friday!! We hope you all have been having a wonderful week. Enjoy this week's newsletter!
Introduction to the Week
2/1-2/5
This week we focused on wants vs needs/ gardening. Earlier this week we talked about what we need to keep our bodies healthy and growing. We also discussed what animals and plants need- "plants need water and sun…and air!" Greta said. We started the week by getting the Doves familiar with different habitats and what animals live in them, "some animals live in a desert!" Liam said as we listed the different habitats we have seen.
Habitats/ Nature
Throughout the week, the Doves worked together to collect rocks, leaves and other materials we thought we could use in the classroom. The Doves spent the week exploring all types of natural materials while creating different habitats, some even created their backyards! Earlier in the week, we asked the Doves if any of them have a garden- Neive said "I growed broccoli and beans in a pile in my garden, and Jacob said "I planted tomatoes with my mommy but it died". We discussed the different parts of a flower, "it has the long green thing in the ground and it goes up and then it has a circle and petals" Matteo said. Before introducing them to planting their own seeds, we let the Doves explore nature outside- "the roots are coming out the ground! Fedor said. They also created their own plants using play dough they made with Teacher Aidelu.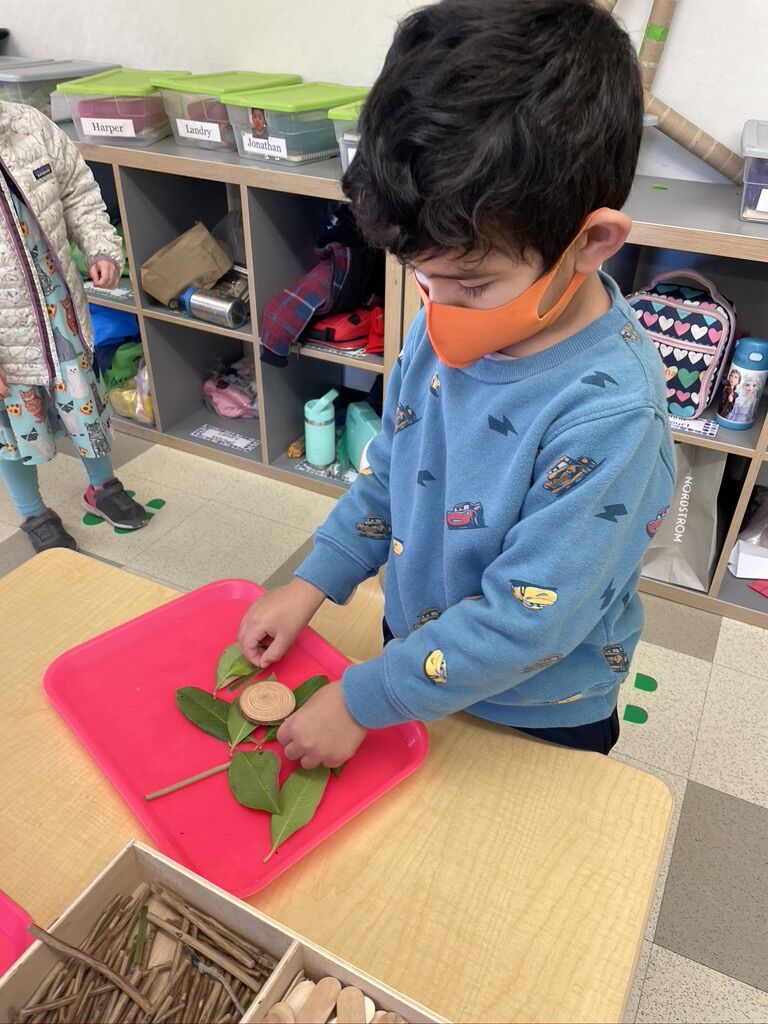 Art
This week the Doves working in groups to paint a mural of a garden. They used their hands to paint grass, plants, trees, blue skies, and more in their garden. They worked together as group and talked to each other about what they wanted on their mural. Natalia said "I made a rainbow flower for my friends." Another activity we did was paint sunflowers- we looked at pictures of sunflowers and looked at the details- "They have brown in the middle"Landry said. They then painted their own sunflowers while looking at the ones at their table. We also used the natural materials we collected to create a self portrait.
Science
On Thursday, the Doves learned about seeds and how just like us, they have "skin" to protect their insides. For our project, we tested if lima beans can grow in a bag! The Doves were given four step directions to do with the materials they were given. They used cotton balls, water, lima beans, and Ziploc bags. They took turns sharing the different materials and helping each other. While doing this activity they also practiced counting and quantifying the cotton balls and seeds. On Friday, the Doves created their own grass plant- they practiced measuring and following directions while doing this activity. They will each water their own plants throughout next week as we watch them grow! While learning about nature, the Doves really enjoyed being outside and comparing the trees, feeling the grass, and looking up at the clouds.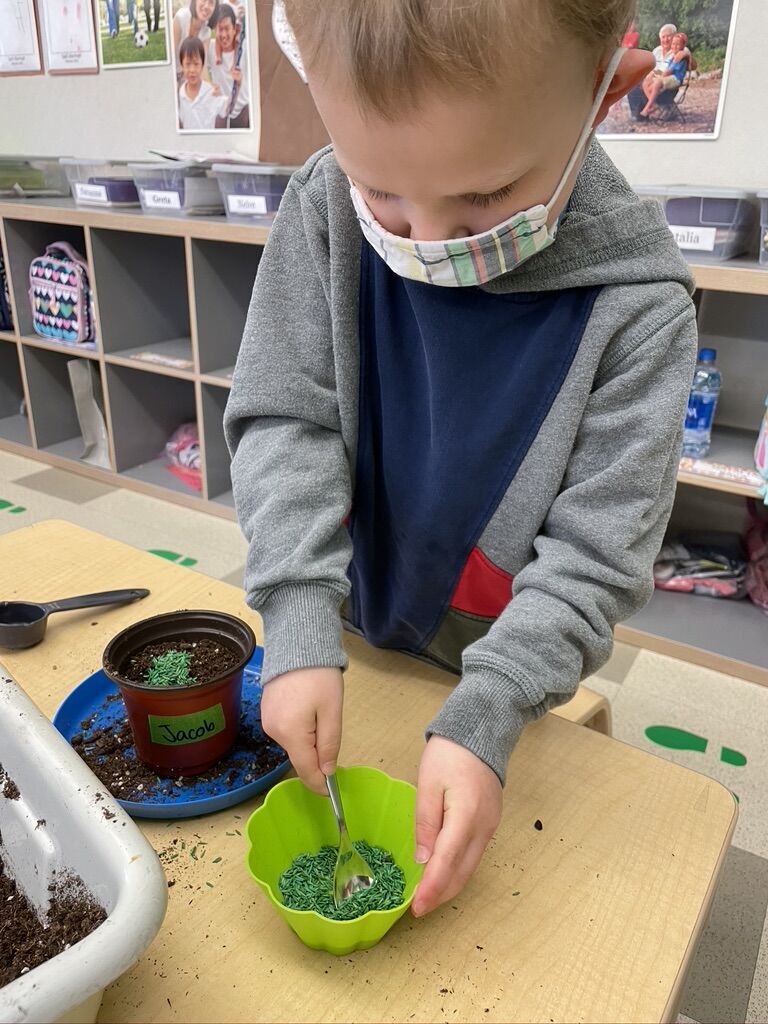 Spanish
This week, the Doves learned about the months in Spanish. We took turns saying what month our birthdays were in then saying it in Spanish. We also started to learn how to sing "si estas feliz y los sabes" (if you're happy and you know it).
Earthquake Drill
Today, the Doves practiced an earthquake drill. They all did so well going under a table, covering their heads, and holding to the leg of the table. They also did this all while social distancing- totally on their own! Impressive right?! We later discussed what happens during an earthquake and the most important things we need to do to make sure we stay safe during and after an earthquake. Teacher Aidelu told the Doves to think or sing their favorite song if they're scared.
Announcements & Reminders
Thank you all who have donated materials to our class over the last few weeks! We have been able to do so many projects with the items.
Some Doves need extra masks for their cubbies- please provide us with a mask in a bag with their name on it next week.
Sandpipers Weekly Post January 15, 2021
"We find these joys to be self-evident: That all children are created whole, endowed with innate intelligence, with dignity and wonder, worthy of respect. The embodiment of life, liberty, and happiness, children are original blessings, here to learn their own song. Every girl and boy is entitled to love, to dream, and belong to a loving "village." And to pursue a life of purpose. "
—Raffi, "A Covenant for Honoring Children"

Dear Sandpipers Parents,

We had a lovely week filled with map exploration, learning about a connection between a farm and a market. We were reading about Henry the Pig and his idea to organize a farm by creating a map of the farm and finding a place for everyone. The children helped organize our own collection of plastic farm animals and some drew a map for the animals, a map to help you get to school, and a Treasure Map.



The children were invited to build/ write letters E, L, I, T, H, and F. To practice letter formations with a combination of vertical and horizontal lines.


After reading "The Mitten" and "Annie and the Wild Animals" by Jan Brett, the children were very excited to learn more about the woodland animals. We have been playing Animals Scavenger Hunt and Woodland Animals Bingo.
| | | |
| --- | --- | --- |
| | | |

The Sandpipers have been learning fun facts about polar bears and "Going on a Bear Hunt". They were asked what kind of bear they would like to and what food they would eat. We got two "meat eaters" Brown and Grizzly Bears (Isabelle and Anh-Tue), one pescatarian White Bear (but it's not a Polar Bear- Chaya), two fish eating Polar Bears(Aidan and Ethan), two Magenta cubs, one is vegetarian (Taara) and one is pescatarian (Fianna), one bamboo loving Baby Panda Bear (Claire), one The Biggest Poison Black Bear who eats fish sticks (Niko), one the Cutest Rainbow Baby Bear, who likes jelly beans (Matteo).

After reading "Lulu, one and only" by Lynnette Mawhinney, "Josephine : The Dazzling Life of Josephine Baker" by Patricia Hruby Powell, and "One Big Heart: A Celebration of Being More Alike Than Different" by Linsey Davis the children were interested in talking about our physical differences and what's fair and what's not. They were very sad that people from Black community were treated poorly in the USA. Some children pointed out that someone told them to stop. We talked a bit about Martin Luther King Jr. being the a leader in the civil rights movement.


The children were invited to make a Self Portrait, please check the wall by the classroom.

We have started to talk about having our own classroom market. The Sandpipers voted on the "Bunny Market". The Block area was transformed into isles for Produce, Dairy Products and juice, Pasta and Rice, Spices, Tea and Coffee Collection, and of course Cookies and Candy. The children have been baking chocolate cookies for the market.



Thank you so much for your donations for the Bunny Market! The children have been enjoying sorting and organizing the containers, labeling the shelves and selling and buying groceries.

A friendly reminder:
There is no school on Monday, January 18 - MLK Day
Class Picture Day- Thursday, January 21

Have a lovely weekend!
Sincerely,
Teacher Kate and Teacher Dan
---
ELC Newsletter! January-February 2021 Posted by Jessica Mihaly
Early Learning Center News


Parent Volunteer Opportunities

Thank you, again, to our Amazing Room Parents for organizing classroom celebrations and teacher appreciations. The words, photos, gifts and donations provided to our teachers in December this year were incredibly generous and the teachers and I were sooo appreciative!

As we move into the second half of the year, we have several additional volunteer opportunities that can be done from the comfort of your own home. Please let me know if you are available to volunteer!

ELC lending library book bag rotation

Label tags for bags (materials and instructions provided)
Adhere ELC labels to books
Help manage the rotation in your classroom
Host classroom parent Zoom get-togethers

Get to know your fellow parents! Host a Zoom get-together for families in your classroom once a month and/or organize parents to take turns hosting
COVID Testing and Vaccines
You may have noticed that we have added a question to your daily Brightwheel check in, asking if your child has been tested for COVID in the past two weeks. As this is our expectation, we hope that you will be able to answer "yes!" to this question. Testing is readily available at the Menlo Park Curative kiosk on the corner of Middlefield and Ravenswood. Additional testing sites can be found in the district's FAQs here.
As a reminder, the few children who are not consistently able to wear their masks over their noses will be asked to test weekly.
MPCSD is working with the County Health Department and County Office of Education to expedite vaccines for teachers, including preschool and child care educators, but the slow roll out of the vaccine has delayed their efforts. Stay tuned as we learn more.
"To Market, To Market" Sesame Workshop Curriculum
In the beginning of January, we introduced the third unit of the Sesame Workshop Curriculum titled, "To Market, To Market". For five weeks the ELC classrooms will engage with the topic question, "Who and what make up our neighborhood?" Each week a question will guide our young learners to explore and celebrate their neighborhood. The children will also focus on geography with an emphasis on directions and distance.

An essential part of our family life is the place where we get food (grocery store, food pantry, food truck, meal service, famers market, etc.). We have started to create markets in our classrooms to bring to life the real-world experience of buying groceries. Throughout the unit children will begin to develop an understanding of needs versus wants, how money works, and an appreciation of the people, places, and things that make up our community.


Week 1: Where do we live? Who are our neighbors?

Social-Emotional Focus: Self-Confidence

Week 2: What types of stores are in our neighborhood?

Social-Emotional Focus: Prosocial Skills

Week 3: How is our neighborhood special?

Social-Emotional Focus: Demonstrating Curiosity

Week 4: How are our needs different than our wants?

Social-Emotional Focus: Flexible Thinking

Week 5: How can we share what we have with others?

Social-Emotional Focus: Social Problem Solving
Anti-Bias Education and Anti-Racism at the ELC

During each of our staff development days this year, we have worked with Kaytie Brissenden Smith, our coach from the New Teacher Center, to deepen our understanding about implicit bias, structural racism and inequities in our society as we continue to work towards becoming an anti-bias educational environment.

One of the ELC guiding principles is that "Children and families from diverse backgrounds thrive and benefit from the core values of equity, interdependence and social justice." This vision aligns well with the anti-bias education approach we are adopting, guided by the National Association for the Education of Young Children and described as follows:

"Anti-bias education is an optimistic commitment to supporting children who live in a highly diverse and yet still inequitable world. Rather than a formula for a particular curriculum, it is an underpinning perspective and framework that permeates everything in early childhood education—including your interactions with children, families, and colleagues." "Anti-Bias Education for Young Children & Ourselves" by Louise Derman-Sparks & Julie Olsen Edwards with Catherine M. Goins.

There are four core goals on this journey for young children:

Identity - Self-awareness, confidence, family pride, and positive social identities
Diversity - Comfort and joy with human diversity, accurate language for human differences, and form deep, caring connections across all dimensions of human diversity
Justice - Recognize unfairness (injustice), have language to describe unfairness, and understand that unfairness hurts
Activism - Ability and confidence to stand up for oneself and for others in the face of bias

As Martin Luther King, Jr.'s birthday is commemorated and Black History Month in February approaches, our ELC classes have been talking about Black individuals who have helped make this world a better place as well as reading books featuring Black children and families. This is an ongoing approach as it follows our anti-bias education philosophy. Along with MLK, Jr.'s birthday and Black History Month, it is an opportune time to discuss empathy, fairness, and the lives of Black persons.

To help us set our anti-bias education work in motion, we are honored to share that we received a very generous gift of high-quality anti-bias children's books (pictured below) from the Shrivastava-Aurora family, whose son Aahan is a student this year in our virtual Seagulls class (and was a Hummingbird last year). Thank you, Aahan, Smriti and Kush for this amazing gift!




We will continue to use children's literature as the basis for launching conversations about bias and equity in the areas of race, gender identity, family structure and ability. For selections of great multicultural and social justice books for children, we use these websites, among others:
Thank you to Olivia Saachi for her help with this post!

Child Development Corner: Have You Ever Felt Frustrated? Schema Theory

During our November 23rd staff development day, we had the true privilege of being joined by Deb Curtis, an early learning superstar author, teacher and leader, for a workshop about "Schema Theory" in children's play and learning.

Teacher Olivia wrote this article for us to extend our learning to you, our families. Here's her article:

Have you ever felt frustrated when noticing your child using toys and other items far from their intended purpose, such as finding random objects stockpiled in various nooks, or seeing markers drawn on their skin like tattoos? Before you tell your young one to tidy up, wash up, put it away or stop (unproductive) play, consider for a moment they are likely building deep and lasting foundations for math, science, and other higher ordered thinking.

Child development experts call these seemingly messy and aimless activities schemas - "a thread of thought that is demonstrated by repeated actions and patterns… a reflection of deep, internal, and specifically directed thoughts" that pave a path toward "an understanding of abstract ideas, patterns, and concepts".

There are over 40 schemas recognized as important and natural for children's development. Here are 8 that we are paying attention to at the ELC and that are commonly observed in children's play:

Transporting: Picking things up, moving them, and putting them down (dumping books out of the book basket)
Transforming: Discovering how materials can change their shape, color, or consistency (chipping at Styrofoam balls, squashing playdough and clay, mixing paint, making mud)
Trajectory: Exploring horizontal, vertical, and diagonal movement (standing on and jumping off chairs, tables, milk crates; zooming cars and rolling balls across the floor)
Scattering: Using arms or legs to scatter things (knocking materials off shelves and tables)
Rotation and Circularity: Experimenting with things that spin, turn, and roll (spinning themselves, spinning wheels, throwing balls) and exploring curved lines and circles (drawing, painting, shaping clay)
Enclosing and Enveloping: Surrounding objects with other things, such as blocks, or getting inside a defined area, like a box (filling up containers; hiding, covering, or wrapping up themselves or objects)
Connecting: Joining things together and tying things up (lining up objects, stacking blocks, using tape to attach things to each other) – And also Disconnecting (pulling/taking things apart/knocking structures over)
Orientation and Perspective: Exploring themselves or objects from different angles (climbing on objects, hanging upside down from bars, looking through holes and transparent objects, laying down while building, crawling under tables)
These are significant and worthwhile activities that bolster your child's development. To support these schemas, you can offer materials and environments (bags and baskets for transporting, toys with wheels for rotation and circularity, outdoor areas for trajectory) that benefit and accommodate your child's need for exploration and competency.

Keep these schemas in mind when your child is using household materials or toys in ways they were not intended by their adult manufacturer or moving their body in unexpected ways. For sure, we know that by exploring the world around them in these ways, children are creating new connections in their brains and who knows, your child might be inventing the next great tool for humankind!

For more information about schemas:

Thank you Teacher Olivia!


Kindergarten Information Sessions and Orientations

Here is the information you'll need to register and attend information sessions (please note information sessions are required for families interested in Spanish Immersion):
School Information Sessions
Registration for all new students (grades K-8) entering MPCSD in Fall 2021 opens on February 1. Parents who would like to learn more about our program, especially kindergarten, are welcome to attend one of the following sessions, each hosted by one of our elementary schools. All of this information is also available on the district website Enrollment page.

OAK KNOLL
When: Jan 27, 2021 06:30 PM Pacific Time (US and Canada)
Topic: Kindergarten Information Night Hosted by Oak Knoll Elementary School
Register in advance for this meeting:
https://mpcsd.zoom.us/meeting/register/tJMqcuqqqj4sE9ENpEWkIp7myuJcif2z3O6s

LAUREL
When: Jan 25, 2021 06:30 PM Pacific Time (US and Canada)
Topic: Prospective Family Information Night
Register in advance for this webinar:
https://mpcsd.zoom.us/webinar/register/WN_URDR5kbuTYecNDeibHwq7Q

ENCINAL
When: Jan 26, 2021 06:30 PM Pacific Time (US and Canada)
Topic: Kindergarten Information Night Hosted by Encinal Elementary School
Register in advance for this meeting:
https://mpcsd.zoom.us/meeting/register/tJwpf-ippz8oG9xM9D8e2j9OJaLlZvNRVxU8

After registering, you will receive a confirmation email containing information about joining the meeting.

SPANISH IMMERSION
Parents interested in Spanish Immersion for their kindergartner, even if you already have an older child enrolled in SI, must attend a mandatory Spanish Immersion information meeting (attend one) to be held via Zoom:
Spanish Immersion Lottery will be held via Zoom. Notifications will be sent after the Lottery has been completed. Participation NOT required. New Tinsley Family Welcome
Tuesday, February 2, 2021, 6-7 p.m. Format TBD
---
Hummingbirds Newsletter 1/11-11/15 2020
For this week we began Sesame Workshop Unit 3 with the question, "Where do we live? Who are our neighbors?" We wanted to focus on the people and physical geography around the children to support spatial understanding, see things from new perspectives and create concrete connections to their world. Lots of the activities included mapping, talking about people and places in our neighborhoods, and navigation vocabulary.

Maps, Navigation and Neighborhoods

Mapping was a huge part of this week's lesson, which the kids seem to grasp quickly and enthusiastically. We started small in the beginning of the week mapping our classroom with construction paper, markers and different symbols. It was wonderful to see how each child saw the classroom and organized their maps with different symbols and pictures representing places in the classroom.

Then we used the Laurel campus map to take pictures of different locations around school. We circled the places we wanted to visit and each child took turns snapping shots of each place with their friends using our classroom iPad. We even got a photo opportunity with Lawrence the computer tech support, Mr. Rosa the janitor and Teacher Jessica! It was fun to see how some of the kids took charge reading the map and finding the different locations by letter and numbers of the rooms.


Teacher Tati did a fun Spanish lesson on a bird's-eye-view of neighborhood places in Español like hospital, bomberos, heladería, policia, and biblioteca. Also, they drew a mapa de mi casa, a map of different places around their homes.

We began painting our homes reusing clean lunch bags that we have saved, which we will be creating a 3D neighborhood map next week. Also, some of the kids started painting maps to find buried treasure!

Teacher Stacy created a simple obstacle map of the classroom where the kids looked at and then followed each direction and movement. This activity helped build vocabulary for direct movement prepositions like over, under, behind, and besides.

To celebrate children's self-confidence, we invited them to share a time when they felt confident. They answered the prompt, "I feel confident when..." What beautiful answers they came up with about when they feel confident, which we continued to talk about throughout the week.
Some of the children who've been confidently writing their names have asked to create something new during check in. Teacher Tati made it harder for them by writing their names backwards and having them write the missing letters in their names. After finding and completing their check in, you could tell how confident they were feeling with their accomplishments.

Friday during circle time, they were able to share their items that help them feel confident. Some were very brave and shared how they felt even without something physical to share.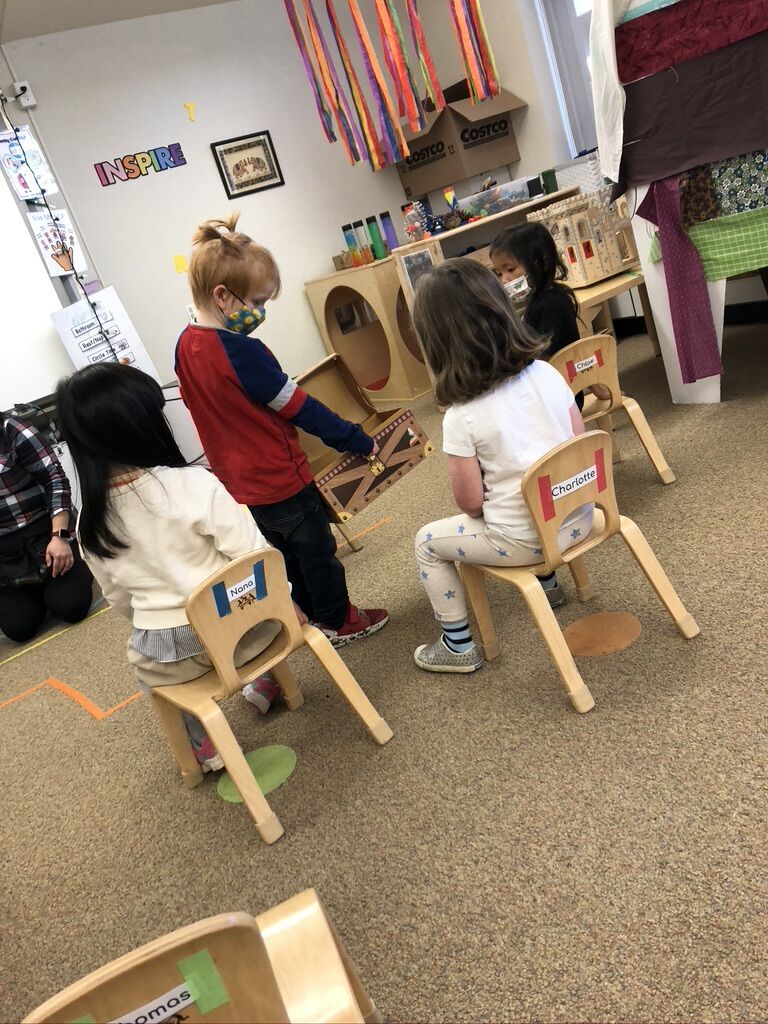 We practiced the song, "Where do you start your letters?" where the kids practiced location of the bottom, middle, and top of Big Line. This song helps the kids practice and remember that when they write their letters they always need to start at the top!

The kids were super helpful in building our new water table and learning how to use a wrench and counting the washers, nuts and bolts.


Thursday, we had an evacuation drill, which the Hummingbirds rocked! They lined up quietly, listened to teachers and walked outside nicely. We explained the importance of practicing these "drills" in order to be safe and be prepared. It's always nice to review at home about the importance of these drills and relieve any apprehensiveness if any.


Here are some highlighted pictures of the children's play this week!

We had a dance party on the quad and the kids danced to the beat on the stage!

On the River Playground, the kids decide who rides the two bikes and one wagon by fairly singing, "Eeny Meeny Miny Moe."
We added new food items to the dramatic play area like ice cream and bakery items and the kids had so much fun playing with them.
Have a fantastic 3 day weekend celebrating the Martin Luther King Jr. Holiday and see you back on Tuesday!

Best Regards,
Teachers Stacy and Tati
No school on Monday, 1/18 MLK Holiday
Please bring empty containers, cans, boxes etc that can add richness to our dramatic play store
We've noticed a lot more sagging face masks that are exposing children's noses during school. Please make sure to see if your child's mask is the appropriate size. Thanks!
Larks Weekly Newsletter 1/18/21-1/22/21



"I have a dream..." Martin Luther King, Jr.

Dear Larks families,
In the beginning of the week, we talked about Martin Luther King, Jr. and how he grew up being treated unfairly because he was Black. His dream was for people, regardless of the color of their skin, to play, learn, live, and work together. The larks were invited to think of a dream, or hope, for everyone in the world, and they came up with caring and empathetic responses. "Everybody can eat food", "Love", "Every human in the world is good", "The poor people have food, toys, and everything they need", "Trees and plants grow all over the city", "The world will be safe". "Everybody in the city has a playdate", "Everybody, the entire world, loves each other".


The question we explored this week asked, "What types of stores are in our neighborhood?" The larks shared their knowledge and connection to their neighborhood by naming stores in their community that provide them with things they need and want. The larks identified specific markets such as Target, Cheeky Monkey, Safeway, Draeger's, and Trader Joes', and shared that toy stores, grocery stores, ice cream stores, ice cream trucks, and farmer's markets are located in their neighborhood and surrounding area. In their journal, they drew a picture of a market that they know from their neighborhood.

The larks thought that our classroom market should sell toys and clothes as well as food, so our classroom tinkers and tailors will add these items to our shelves. While we are stocking our market with goods, a number of names have been suggested for our store: Everything Store, Market Safeway, Food and Toy Store, Juice Box, Rattle Snake Flash, Cheeky Monkey Market, among others. We voted by putting a sticker next to a preferred name, and Store My Love won the majority with four votes.
Amy Fahey, Connor's mom, visited us on Zoom and read the story "How to Hide a Lion", about a gentle yet misunderstood lion who thwarts a burglary and has a special request of the grateful townspeople. Afterward the larks made lion puppets out of paper bags and construction paper. Thank you, Amy, for your engaging, enjoyable, and enlightening read alouds and activities!


The larks practiced writing numbers 1, 2, 3, and 4 by counting the number of legs and fins on animals and practiced writing the capital letters D and M and the first letter of our first name.

The nature-loving larks painted branches and explored the Oak Knoll garden - creating tanbark designs, relaxing, pushing a "cart" in a grocery store, and caring for a rabbit family.



The larks enjoyed working as a team to solve four puzzles simultaneously. Children handed each other pieces as they needed. "Here you go." They worked very well together and the puzzles were solved in a few minutes.


Earlier, the larks mixed two containers of colored vinegar with baking powder and delighted in the fizzy chemical reaction and the new colors created. "This is a map!", "This looks like the earth.", "I made orange.", "Look! It's purple!"

During the rainy weather the larks took a walking tour of some of our classroom neighbors. We saw the front office, the nook where Senor Vicente parks the utility vehicle, the library and classrooms we hadn't walked by before. We admired a rainbow from our doorway ("make a wish!") and investigated what would happen to chalk when mixed with water. Rain boots splashing in puddles that reflected trees and fences.








A note from Jessica Mihaly:



Great news! The ELC is partnering again with Parent's Place/Center for Children and Youth to offer our families access to their excellent parent education workshops at no cost to you! Enter code MPELC when you get to the checkout for your FREE registration. Here are the offerings we are sponsoring for February.

2/1 and 2/8 at 7:00 p.m.: That Makes Me So Mad: Parent and Child Anger Management (plan to attend both sessions)
2/22 at 7:00 p.m.: Building Resiliency During COVID-19: Self‐Care for You and Your Child
2/26 at 1:00 p.m.: Changing the world: how families do anti-bias work at home

There are many more workshops, support groups and consultation opportunities available that you can find on their website.



Have a wonderful weekend!
Teacher Cecy and Teacher Olivia